Lillian Lin
Fluent in Chinese 
Direct: 212.731.9696
Fax: 347-824-2866
Email: contactlillianlin@gmail.com
Result-driven, goal oriented best described who she is.  Lillian has worked at premier financial service institutions, namely, Citi Group, J.P. Morgan Chase, Berkshire Hathaway Home Services New York Properties, where she catered to high net worth individuals, professionals and business owners. She credits her past experiences helping her to better understand her clients' overall financial situations, so that she can craft the appropriate approach and solutions based on that analysis.
Educated in China and the United States, Lillian understands the different cultures of both countries. She has a Bachelor of Science Degree in finance and economics from SUNY at New Paltz, and a Professional Certification in Financial Planning from Boston University. As one of the founding members of PLS International LLC, Lillian's responsibilities include advising real estate acquisition and management, risk management through use of different insurance strategies, and investment management services. Lillian holds FINRA Series 7, Series 63; New York State Property and Casualty insurance license; New York State Life and Health license, and New York State Real Estate Salesperson license. Her multi-faceted experiences enable her to handle complex transactions and provide superior client services. Lillian is also certified negotiation expert ( CNE) and put her skills to work for your best interest.
A 20-year resident of New York City with over 12 years of experience of successfully investing in condos, coop, and houses across Manhattan, Queens and Brooklyn, Lillian thrives on helping clients achieve their financial success, she has a knack for expertly guiding clients, expecting the unexpected and delivering creative solutions to the inevitable challenges that will arise. Lillian will always look out for the best interests of her clients.
Lillian resides in Manhattan Midtown East. Lillian is fluent in Chines e, and is an active member of the National Association of Asian American Professionals, Chinese-American Real Estate Association, The China Institute and the Asia Society. When she's not working, you'll find her spending time with family, exercising, traveling and enjoying the city's great museums and cultural events.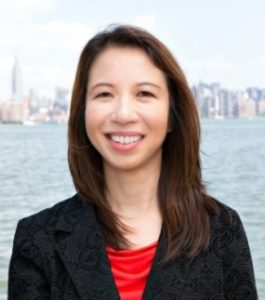 Serene Powers 
Fluent in Chinese
Direct: 646.706.1282
Email: serene@trigrealty.com
Serene has a passion for helping clients find the perfect fit for home, work,
 family life, and in making a sound financial investment.Serene joins Trig Realty Co with over 18 years of technology industries experience. Her background as a lecturer, programmer and SAP software consultant allows her to use her skills to research and find the perfect home for her clients. Serene is a volunteer with the Coalition for Queens Tech Meetup, which meets regularly in LIC to showcase startup companies and promote the neighborhood's emerging tech industry. Serene is fluent in Mandarin, Cantonese, Malay and English.
---
PRESS MENT
IONS: